We Sell Promotional Products
Create excitement with your promotional items!
We offer promotional products and custom promotional items including tradeshow giveaways, Corporate gifts, bags, promotional t-shirts, mugs and other imprinted items. Ad Madison has a 100% guarantee, RUSH services and has been selling promotional products in Madison for over 35 years!
Have an idea for a promotional item or tradeshow giveaway? Need an idea? Call Ad Madison! Our staff can help you create a unique promotional product. Whether it's for a company golf outing or marketing at an annual tradeshow, we will show you exciting options and provide direction and advice to best align your promotional marketing with your business objectives. Our site features hundreds of promotional tote bags, imprinted logo computer bags, briefcases and more. While our website is home to roughly 15,000 promotional products, we have a database of close to one million promotional items and will find anything you might need. AdMadison.com is your one-stop source for thousands of business gifts, advertising specialties and tradeshow giveaways.
If you have any questions, please feel free to contact us. Thank you and enjoy!
Featured Item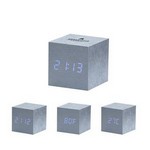 MoMA Alume Cube Clock
Designed by Natalie Sun, the Alume Cube Clock has a textured surface. Snap your fingers or tap the cube and the green LED display reveals the time, date and temperature and after a few seconds the dis...